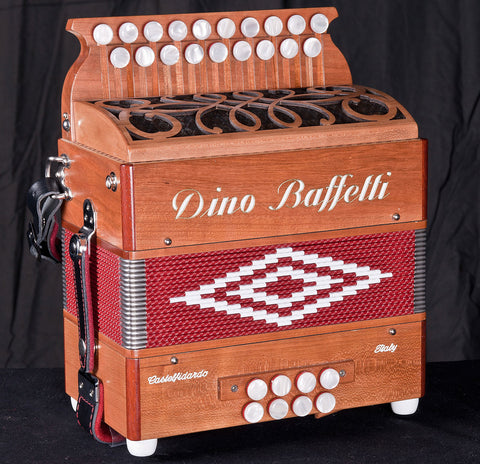 Dino Baffetti - Oakwood Binci II
Description :
By collaborating with Dino Baffetti, Oakwood have taken the basic design of the Carnival II, redesigned the styling and grille, and fitted it out with top of the range accessories including Binci hand made reeds. The result is something like taking a Ferrarri engine and putting it in a mini ... it goes like the clappers!
The Baffetti Binci is small, light, responsive, incredibly loud when it needs to be and has become one of the first choices for session players and morris musicians around the country. It features a stop to remove the thirds from the chords as standard. Simply a joy to play.
Specification :
Rows : 2

Treble buttons : 19

Basses : 8

Treble voices : 2

Weight (kg) : 2.9

Width (cm) : 24

Depth (cm) : 14

Bellows x section (sq. cm) : 336

Treb stops : 0

3rds stop : Yes

Bass octave stop : No

Treble registers : 0

Bass registers : 0 

Keyboard : Stepped