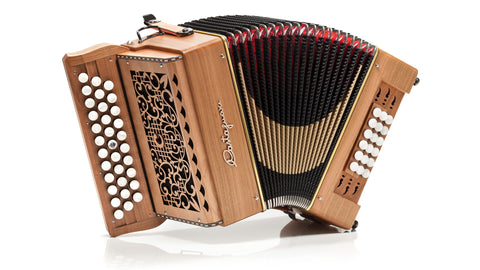 Castagnari - Benny Big 18
Description :
Essentially just a Benny with 18 basses rather than 12, the Big 18 is spectacularly not big! At only 200g heavier than the classic Benny, it is the most versatile compact melodeon on the market and when tuned in a G/C/# or D/G/# layout such as the Heim or Corgeron system, this instrument becomes fully chromatic on both hands. For something so light and small this 2 voice is quite something.
Available in a cherry or maple wood finish. *Many different layouts are possible to order on D/G/# tuned 3 row instruments so get in touch to discuss your requirements.
Specification :
Rows : 3

Treble buttons : 33

Basses : 18

Treble voices : 2

Weight (kg) : 3.3

Width (cm) : 25

Depth (cm) : 16.5

Bellows x section (sq. cm) : 412.5

Treb stops : 0

3rds stop : Optional 

Bass octave stop : No

Treble registers : 0

Bass registers : 0

Keyboard : Stepped