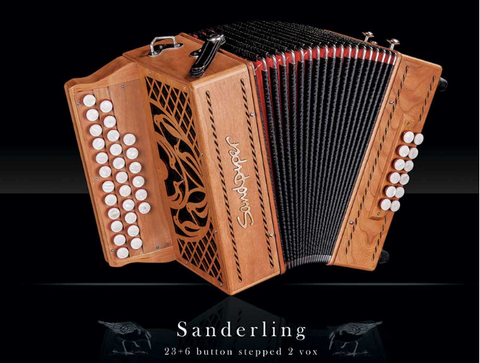 Sandpiper - Sanderling
Description :
The Sandpiper range was developed using a mixture of modern production techniques and traditional Italian reed technology to give a series of instruments that play to a high standard and are solidly built at a price that is not going to break the bank. The Sanderling is the best value for money 2.5 row melodeon on the market today.
A great 23+6 button treble keyboard configuration means that you can really explore a whole exciting world of exotic melodies featuring all those accidentals and reversals. The 12 basses are complemented by not one, but two bass stops for a wide variety of sound possibilities including being able to remove the thirds from the chords. Built from solid cherry-wood and with high quality Italian reeds as standard, the Sanderling is a remarkable box.
The grille has beautifully designed fretwork inspired by nature and the 'ropework' style decorative inlay gives a very smart finish. Supplied with 2 shoulder straps and a padded gig bag.
Specification :
Rows : 2.5

Treble buttons : 29

Basses : 12

Treble voices : 2

Weight (kg) : 3.3

Width (cm) :

Depth (cm) :

Bellows x section (sq. cm) :

Treb stops : 0

3rds stop : Y

Bass octave stop : Y

Treble registers : 0

Bass registers : 0

Keyboard : Stepped